The Show Must Go On! Lady Gaga Is Happy With Her Curves, Weight 'Isn't An Issue'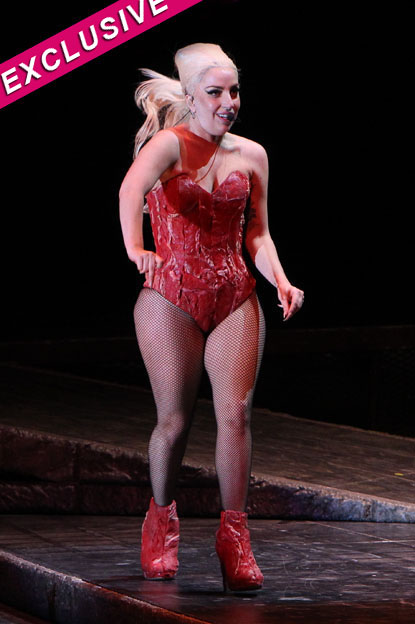 By Jon Boon - RadarOnline.com Reporter
Lady Gaga is happy with her curves and is reluctant to wear a more flattering wardrobe on her world tour, RadarOnline.com is exclusively reporting.
The Bad Romance singer has no qualms with showing off her new fuller figure on stage and believes if she changes her appearance now it will send the wrong message to her fans.
For that reason, Gaga, 26, wants to stick to tight-fitted suspenders until the weight drops off and encourages her "little monsters" to be happy with themselves, no matter how much they weigh.
Article continues below advertisement
"Lady Gaga loves her new shape and doesn't think putting weight on should be an issue," a source revealed.
"She isn't sure that she should wear the new outfits proposed by her record label Universal and wants to embrace her curvy figure by continuing to wear the revealing outfits that are part of the live show.
"If she starts covering up her body now, Gaga thinks that will send out the wrong message to female fans. A lot of young girls have weight issues but Gaga believes the female form should be celebrated in whatever shape it comes in.
"Lady Gaga may have admittedly piled on the pounds in the last half year but as soon as her world tour is in full swing, it will drop off pretty quickly with the diet she is following and the strenuous tour performances.
"It certainly isn't something she is worried about and she will be back to looking skinny probably in a month or two," the source said.
As RadarOnline.com previously reported, Gaga, whose real name is Stefani Germanotta, was told by the Universal Music Group to lose weight after they were forced to fork out for new outfits for the rest of the Born This Way Ball.
Article continues below advertisement
And they also told her to lay off her favorite foods – pasta and pizza!
"The tight, skimpy outfits weren't doing anything for Gaga's new fuller figure, so Universal ordered more flattering and better fitting costumes for the rest of the tour," a source revealed.
"No one likes to criticize someone who has put on weight, but she has been showing some serious muffin top, especially when wearing tight suspenders.
"It just wasn't a good look and was getting unnecessary criticism, so they moved fast to nip it in the bud.
"Gaga has an incredible appetite for Italian food, which stems largely from her roots. It's very easy on tour to get hooked on a diet of pizza and pasta because they are comfort foods and when you are away from home you always long for something that reminds you of where you came from.
"She loves to eat, but because of her tiny frame it shows if she doesn't work out as much as normal. Executives told her to quit gorging on her favorite foods.
Article continues below advertisement