Exclusive
Lady Gaga Slammed By PETA As 'A Turncoat' For Wearing Bright Pink Fur Jacket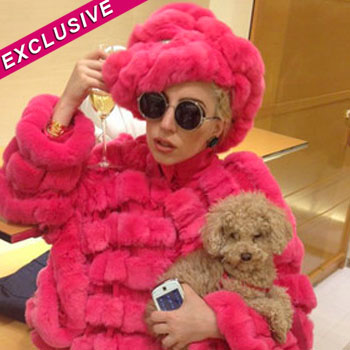 Article continues below advertisement
She has obviously since changed her tune, and now the woman who once shocked fans with her infamous meat dress at the MTV Video Music Awards is being targeted by PETA in a personal letter begging her to ditch her latest fur-wearing ways.
"Many of your gay fans, I among them, have long admired what you told Ellen: 'I hate fur, and I don't wear fur,'" wrote Dan Mathews, Senior Vice President of PETA (People For The Ethical Treatment Of Animals), in a message sent to Gaga obtained by RadarOnline.com.
"I included a link because these recent photos of you in fox and rabbit and with a wolf carcass make it appear that you have amnesia. I'm also including this brief video hosted by Tim Gunn showing the violent cruelty that you promote when you wear fur.
"What happened? Are your stylists telling you that it's fake, or are you a turncoat?" Mathews asked. "Many gays are animal advocates because we recognize that the same arrogance and indifference that some have toward animal suffering has at times been directed toward us personally because of our orientation," he explained.
Article continues below advertisement
With temperatures soaring into the 90s in New York last weekend, Gaga's thick fuchsia Giorgio Armani quilted jacket and hat combo from their Fall 2012 collection - which she accessorized with a cute, and thankfully alive, poodle – was grossly inappropriate when she shopped at the designer's boutique in Manhattan.
"By wearing those dumb furs in a heat wave, you're making yourself a target just like the mindless Kim Kardashian. As we plan our fall campaigns, please tell us whether what you gracefully told Ellen was heartfelt or just a pose," he asked.
As RadarOnline.com previously reported, PETA made a similar appeal to Vicki Gunvalson when she wore a fur coat in an episode of the Real Housewives of Orange County, and the humbled reality star pledged to ban it from her wardrobe for good.
"The world has changed and I must change as well. Fur, while it was never something I needed or specifically wanted, it was in my mindset as something glamorous and a sign of success for a woman," Gunvalson told RadarOnline.com.