Madonna's Mystery Claim: She And Rival Lady Gaga Will Be On Stage Together!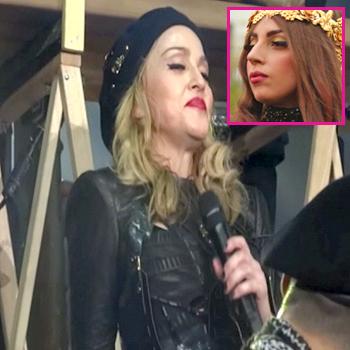 What does she have up her sleeve?
During her MDNA Tour stop Saturday night in Atlantic City, Madonna again took aim at her arch enemy, Lady Gaga.
She dedicated her song Masterpiece to Gaga, saying "I love her...Imitation is the highest form of flattery." Ouch.
Madge then made a curious statement about she and Gaga "sharing a stage soon."
Madonna has been taking on Gaga for months, accusing her of copying her music, and last night's show at Boardwalk Hall was no different.
Article continues below advertisement
When Madonna performed Express Yourself, she mixed it with excerpts from Gaga's Born This Way, to show the audience how similar she believes they are.
The one-sided feud has Elton John saying Madonna's "career is over," but last night's crowd saw it differently.
Boardwalk Hall was sold out and the show ended with a lengthy standing ovation.
RELATED STORIES:
Lady Gaga Slammed By PETA As 'A Turncoat' For Wearing Bright Pink Fur Jacket
Elton John Slams Madonna: 'Her Career's Over… She's A C***'
Lady Gaga Tweets New Tattoo; Reveals New Album Title?