Lady Gaga Mocks Madonna On Stage, Feud Explodes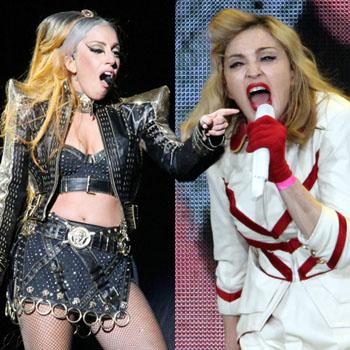 The stick of dynamite that is the relationship between Madonna and Lady Gaga has exploded.
Gaga -- after enduring a cavalcade of slights and digs from the Material Girl painting her as a cheap imitation -- struck back in her concert at Helsinki, Finland's Hartwall Areena Tuesday, telling more than 13,000 concertgoers, "I don't give a f*ck what people say.
"We don't give a f*ck -- we know the truth," the Poker Face singer told the crowd, along with a few not-so-subtle clues that left no mystery as to who she was talking about. She flashed her thong, as the exhibitionist Madonna has been doing on her recent MDNA tour, before launching into a cover of Madonna's 1989 smash Like A Prayer (likely a response to Madonna's covering her song Born This Way on her tour).
Article continues below advertisement
The feud between the pop powerhouses started with the release of Gaga's 2011 smash hit Born This Way, which Madonna later chalked up as a "reductive" -- i.e., cheap or crude -- imitation of her 1989 hit Express Yourself.
At the time of the single's release, Gaga said Madonna's camp reached out to her "sending me their love and complete support on behalf of the single."
She added, "If the queen says it shall be, then it shall be," quelling speculation of a feud until Madonna's "reductive" dig in a January interview with 20/20.