Madonna On Lady Gaga's Born This Way: When I Heard It The First Time, I Said, 'That Sounds Very Familiar'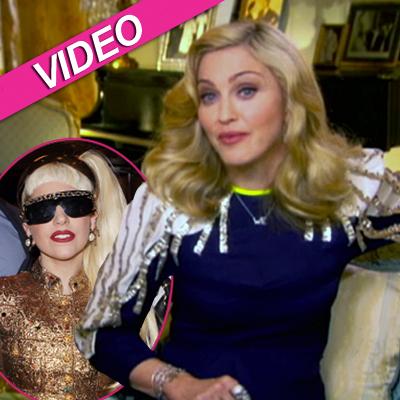 Madonna opens up about the controversy that her heir apparent, Lady Gaga, borrowed liberally from her 1989 hit Express Yourself to create the 2011 chart-topping single Born This Way, and we've got all the details for you here on RadarOnline.com.
"When I heard it on the radio …I said that sounds very familiar," Madonna tells ABC News in a 20/20 chat scheduled to air Friday. "It felt reductive."
Article continues below advertisement
(The definition of "Reductive" -- Tending to present a subject or problem in a simplified form, esp. one viewed as crude.)
Madonna said she thinks Gaga -- also a New York-born pop star with socially-influenced songs and a huge following in the LGBT community -- "references me a lot in her work.
"And sometimes I think it's amusing and flattering and well done."
She added Lady Gaga mimics her in "taking something that was in the Zeitgeist, you know, 20 years ago and turning it inside out and reinterpreting it."
"There's a lot of ways to look at it. I can't really be annoyed by it …because, obviously, I've influenced her."
As for Gaga, she spoke of the similarities last year saying she's "the hugest fan personally and professionally. The good news is that I got an e-mail from her people and her, sending me their love and complete support on behalf of the single. And if the queen says it shall be, then it shall be."
Article continues below advertisement
Also in the chat, Madonna, 53, opens up about her new romance with 24-year-old dancer Brahim Zabat.
An admittedly-uncomfortable Material Girl said, "I didn't like write down on a piece of paper I'm now going to have a relationship with a younger man ... That's just what happened. You see, that's the romantic in me: I just met someone that I cared for and this happens to be his age."
She joked she's "the easy one" in the relationship, and said that "behind the curtain, I'm just like everybody else."
The full interview airs on 20/20 Friday at 10/9c.