Angie vs. Madonna: Fighting Words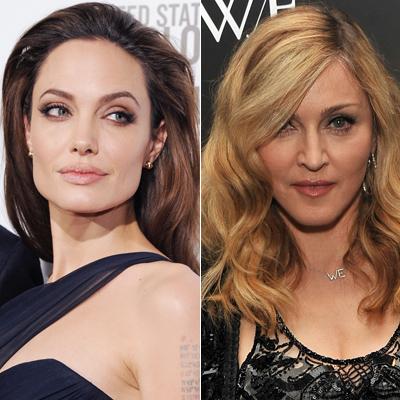 As their films face off in theaters, a battle is brewing between director divas Angelina Jolie and Madonna.
"Angie's been taking potshots at Madonna every chance she gets," a source tells Star. Angelina is up in arms because people have been drawing comparisons between her and Madonna — who's been criticized for such cinematic failures as Swept Away, Body of Evidence and, most recently, W.E.
"Angie considers Madonna a nuisance and a distraction from her own work. She's said Madonna has no talent whatsoever for filmmaking and that W.E. is a big-screen joke."
Article continues below advertisement
But Madonna is taking the high road, trying to foster a friendship with her fellow female director. "Madonna reached out to Angie, suggesting they get together to discuss moviemaking," the source explains. "But Angie just didn't see any upside to meeting up."
As the Hollywood awards season gets underway, the tension is bound to rise. While W.E. earned two Golden Globe nods, Angelina's In the Land of Blood and Honey was nominated for the best foreign language film Golden Globe. "Angie's gunning to score big," the source says. "She doesn't think Madonna has a chance. But she wants awards — that's all the validation she needs."