Exclusive
Celebrity Trainer Tracy Anderson Slammed For Bashing New Moms Battling Baby Weight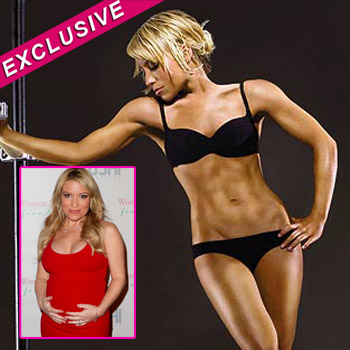 By Debbie Emery - Radar Reporter
Not everyone can snap back into shape straight after having a baby, and the struggle to slim down again haunts countless new moms, which is why celebrity trainer Tracy Anderson's harsh comments this week about how a "lot of women use pregnancy as an excuse" struck a nerve with so many people.
"What an idiot! Could she at least say 'some' women?" asked shocked nutritional expert Majid Ali, in an exclusive interview with RadarOnline.com.
Article continues below advertisement
"Sure, most choose to try and get back to their pre-baby weight as soon as they can but a few things get in the way like returning to work, or having two or more kids, or a household and no help, so any extra time is used up for cleaning and child care."
The controversial comments that caused concern were made by the Tracy Anderson Method creator in DuJour magazine's September issue, in which she revealed that she only gained 30 pounds while pregnant with new daughter, Penelope, and lost it all within six weeks.
"A lot of women use pregnancy as an excuse to let their bodies go, and that's the worst thing," said the 37-year-old trainer, who made her name sculpting the bodies of Madonna, Gwyneth Paltrow and most recently, Jennifer Lopez.
"I've seen so many women who come to me right after having children with disaster bodies that have gone through hell, or they come to me years later and say, 'Oh, my body is like this because I had three kids.'"
Article continues below advertisement
While most health experts agree that in an ideal world, it is advisable to gain only around 30 pounds and begin a workout plan as soon as they can after giving birth – this is far from an ideal world, and every new mom is as unique as the babies that they just welcomed.
"Some women after pregnancy have hormonal issues and that prevents weight loss, such as changes in estrogen or their thyroid may slow the metabolism," explained Ali. "Pregnancy can also impact insulin, creating mild to moderate insulin resistance, and that will impact weight loss.
"A woman can have difficulty for multiple reasons - it isn't always a lack of desire," he emphasized.
Later in the DuJour interview, Anderson admitted that not everyone is perfect -- even her! -- and it was still tough to get back into shape after giving birth the second time around and she still has 10 pounds to go to reach her ideal weight.
"For 13 years I've been jumping around, dancing at such high levels all over the world and with no sleep for multiple hours a day. I thought, 'Please, I can bust out an hour of dance aerobics, no problem.' Wrong!" she said.