Exclusive
Jennie Garth's Dramatic Weight Loss Sparks Fear Of Demi Moore Style 'Break-Up Diet'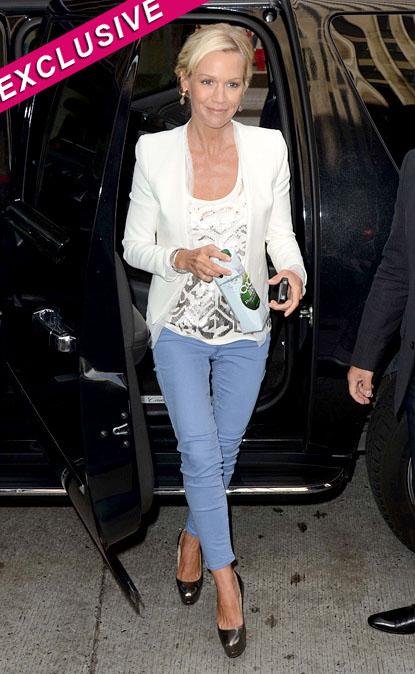 Article continues below advertisement
"This is not a good look for her, she appears to be as thin as she was in the original Beverly Hills 90210 twenty years ago," nutritionist Dr. Fred Pescatore, who has not treated the actress, told RadarOnlione.com in an exclusive interview.
The author of the Hampton's Diet estimates 5'5" Jennie's weight to be around 100 pounds, which is up to 30 pounds lighter than she should be for her height and build.
As RadarOnline.com previously reported, the former Dancing With The Stars contestant and her Twilight star husband, Peter Facinelli, announced they were splitting up in March after 11 years of marriage and three daughters together. "While we have decided to end our marriage, we both share the same deep love and devotion to our children," they said in a joint statement.
Nutritional expert and CEO of NutriFit Jackie Keller told RadarOnline.com that plummeting pounds is a common side effect after a marriage breaks down.
Article continues below advertisement
"Some women (and men!) do lose their appetite under emotional stress, and the net result can be weight loss, or other poor health habits such as smoking, drinking and inadequate sleep, etc," she explained.
"It's natural to go through an adjustment period, and always best if the emphasis is more on positive aspects of life, like her beautiful daughters and perhaps other projects that she's involved in," said the health expert, but there is light at the end of the tunnel. "As a coach, I work with people to rediscover happiness and what brings them joy, especially when you're under extreme stress."