Jennie Garth On Split With Peter Facinelli: 'It Happens To The Best Of Us'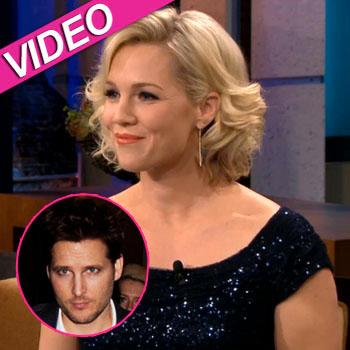 A subdued Jennie Garth, appearing on The Tonight Show Thursday, told host Jay Leno that while her recent split from husband Peter Facinelli is a tough thing to go through, she's moving forward in her new surroundings with their three daughters.
Asked about the split, the 39-year-old beauty, sporting a Marilyn Monroe-esque look, said "Yes, it's unfortunate, it happens to the best of us ... it's tough.
Article continues below advertisement
"We grew up together," the former 90210 star said of the New York-born Facinelli, who played Dr. Carlisle Cullen in the Twilight series.
Garth, referring to their children -- Luca, 14, Lola, 9, and Fiona, 5 -- said she and Facinelli "have three beautiful daughters together."
The self-proclaimed country girl, who grew up in an Illinois farming community, told Leno she moved to the Santa Ynez Valley (two-and-a-half hours from the fast-paced hustle and bustle of Hollywood) because it was "time to get the hell out of L.A.," where she's lived since her early teens.
Watch the video on RadarOnline.com
Facinelli and Garth foreshadowed their split when they separated briefly last summer; in his divorce filings with the L.A. County Superior Court last week, Facinelli said the duo were unable to work through their "irreconcilable differences."
Jennie's new TV show, Jennie Garth: A Little Bit of Country, airs on CMT beginning April 20 at 9/8c.
RELATED STORIES: