Exclusive
Anne Hathaway's Dramatic Weight Loss 'Could Strike A Hard Blow To Her Metabolism' Warns Expert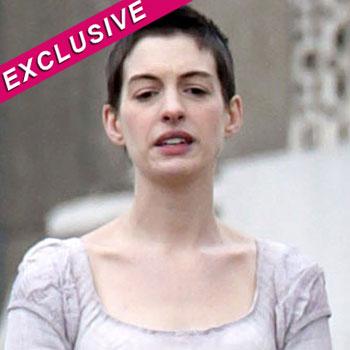 Anne Hathaway has always taken her roles very seriously, but her dedication to immerse herself in the part of a prostitute in Les Miserables could have a devastating effect on her health, RadarOnline.com can exclusively reveal.
The 5'8" star has undergone a startling weight loss for the upcoming film, plummeting to an estimated 115 pounds, which has caused her face to look drawn and gaunt and her collarbone and clavicles to jut out through her pale skin, says author of The Hamptons Diet, Dr. Fred Pescatore, in an exclusive interview.
Article continues below advertisement
"Anne is a true professional and always prepares for her roles. Unfortunately, this particular role meant losing even more weight and generally looking starved and ragged," she explained.
"I have known her to be a healthy eater with a normal, healthy appetite -- careful but not 'crazy.' Her startling appearance is, no doubt, a reflection of the role she needs to portray."
Having already slimmed down to squeeze into a latex suit to play Catwoman in The Dark Knight Rises, Hathaway could be wreaking havoc with her health with her yo-yoing weight.
Article continues below advertisement
"It's hard on the metabolism and makes successive attempts to lose weight more difficult. It can also be hard on you mentally, because to be able to go through cycles like that can make you very phobic about food in general," revealed Keller, while clearly pointing out that she doesn't "ascribe any of these issues to Anne" specifically.
RELATED STORIES: