First Look At Anne Hathaway As Catwoman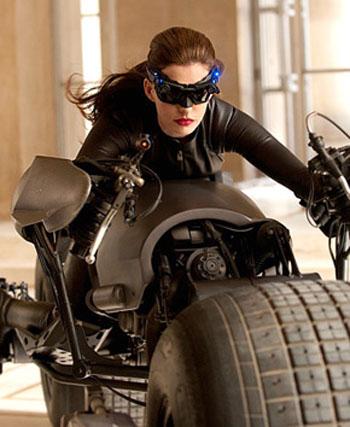 Someone's getting catty!
Yes, that's lovely Anne Hathaway dressed as Batman's feline frenemy Catwoman.
Warner Bros. has released the very first promo photo of Hathaway as Catwoman in The Dark Knight Rises, the next installment in the retooled Batman franchise, starring Christian Bale.
Hathaway, 28, joins a star-studded cast that, in addition to Bale, includes Morgan Freeman, Michael Caine and Gary Oldman, as well as new three new characters: John Blake (played by Joseph Gordon Levitt), Miranda Tate (played by Oscar winner Marion Cotillard) and Bane (played by Tom Hardy).
Article continues below advertisement
Hathaway follows in the footsteps -- or paw prints – of Michelle Pfeiffer who played the feline villain in 1992's Batman Returns and Halle Berry in 2004's Catwoman. And who can forget both Julie Newmar, Lee Meriwether, Eartha Kitt who each played Catwoman in the campy 1960s TV version of Batman.
The Dark Knight Rises hits theaters on July 20, 2012.
RELATED STORIES:
Bikini Wars! Cowboys Vs. Aliens