Wasting Away? Anne Hathaway Shows Off Shocking Weight Loss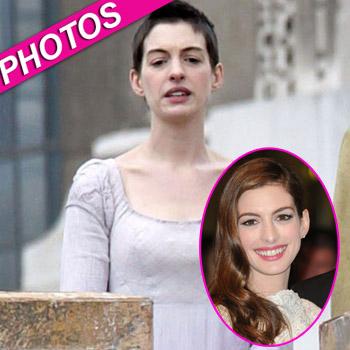 Anne Hathaway's drastic diet to slim down for her latest film role as a prostitute is clearly working!
The Academy Award nominated actress, who went to extreme measures to drop a whopping 16 pounds from her already skinny figure for her leading role in Les Miserables, showed off her shockingly gaunt figure on the London set of the movie – and RadarOnline.com has the photos.
With her hair shaved short for her role as Fantine in the movie adaption of Victor Hugo's novel, the 29-year-old actress looked more sickly than sexy as she filmed scenes with Hugh Jackman.
Article continues below advertisement
"Unfortunately, she only has 15 to 20 days to lose as much weight as possible - up to a stone-and-a-half - because she's been filming the scenes showing her fit and healthy, almost slightly chubby," a source told the UK's Daily Mirror about Anne's dangerous diet.
Anne was already skinnier than usual after living on "kale and dust" in order to squeeze into a latex catsuit for her role as Catwoman in The Dark Knight Rises.