Anne Hathaway Shows Off Short, Sassy 'Do In London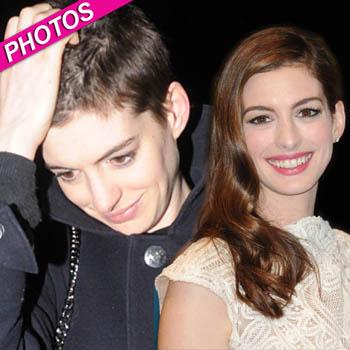 As spring careens toward summer, Anne Hathaway has gone short and sassy.
The 29-year-old beauty showed off the light 'do alongside her beau Adam Shulman at London nightclub The Box Saturday, and we've got all the pics for you right here on RadarOnline.com.
Hathaway, who plays Catwoman in the upcoming film, The Dark Knight Rises, underwent the radical hair transformation for her upcoming role in the silver screen adaptation of Les Miserables.
Article continues below advertisement
In it, she's cast alongside fellow A-listers Hugh Jackman and Russell Crowe playing Fantine, a factory worker who has to prostitute herself to make ends meet. In addition to the haircut, she's also had to lose weight for the role.
"She is losing weight for the part, but not that much," her rep told E! News. "Just enough for her to look more frail, as she is playing a dying prostitute."
Les Miserables is set to hit movie theaters this holiday season, while The Dark Knight Rises hits theaters July 20.