Exclusive
Ali Lohan 'Is Painfully Thin And Wasting Away' Say Experts, Weighs Less Than 100 Pounds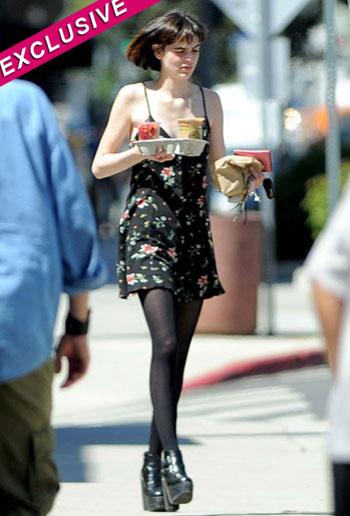 Article continues below advertisement
Wearing a floral dress, black tights and platform boots, Ali's new blunt haircut accentuated her gaunt face and sunken cheeks during her coffee shop dash on Tuesday, where she stocked up on caffeine and low calorie fruit.
Nutritionist Majid Ali agreed that Ali is on a downward spiral. "Every time I see pictures of her she seems skinnier and pastier. I'm really suspicious of an eating disorder. You can see an emaciated body type like hers and the body consuming itself," he explained.
The 18-year-old first began looking extremely emaciated last September, reported RadarOnline.com, soon after signing a modeling contract.
While at the time many people expressed concern about her health, her troubled big sister – whose weight has dramatically yo-yoed in size due to personal and drug problems over the years – has stuck up for Ali saying she thinks she looks great.
The siblings enjoyed a blow out bash last Thursday at the Chateau Marmont to celebrate Lindsay's final progress report, where they partied with 45 guests until the early hours of the morning.
Article continues below advertisement
Sadly, late nights like that won't help the teenager get on the healthy path that she needs, and may simply add to her troubles.
"She looks painfully thin, like there's muscle wasting. In this photo, it's hard to see any muscle development at all," health expert Jackie Keller, CEO of delivery meal service NutriFit told RadarOnline.com.
"Her limbs are stick-like, as is her torso," she explained, adding that very low body fat can make people susceptible to numerous health problems.