Exclusive
Janice Dickinson: Lindsay Lohan 'Horrified' Ali's Bosses Are Telling Her To Lose Weight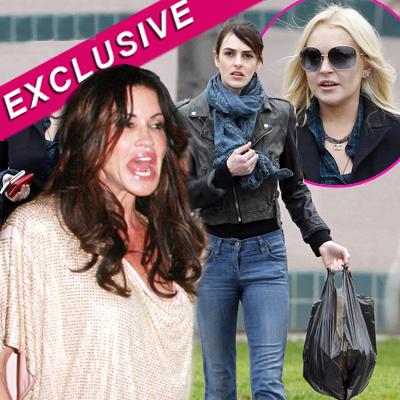 Lindsay Lohan is "horrified" about the runaround her little sister Ali is getting in her modeling career, as her agents are planning to send the 18-year-old overseas to work -- and asking the rail-thin beauty to shed even more weight, Star magazine is exclusively reporting.
The Mean Girls star, 25, shared her concerns in a chat with modeling icon Janice Dickinson at L.A.'s Chateau Marmont on New Year's Eve.
Article continues below advertisement
"Lindsay was complaining that her sister is being sent off to Asia by her modeling agent," Janice tells Star exclusively. "She asked me my opinion and I said, 'If this agency can't get Ali some work in this country, what good are they as an American agent?'
"Lindsay is horrified," Dickinson tells the magazine exclusively. "She doesn't want Ali going away, but worse still, she doesn't want her to lose more weight."
Dickinson, who recently launched the website Janice TV, opened up to Star exclusively about the sometimes-unreasonable demands agents make in the modeling business.
"Agents should have their own jaws wired together," she said. "They pick these young girls and tell them to lose more weight and have plastic surgery."
For more on this exclusive story, check out Star magazine -- on newsstands now.
RELATED STORIES: