Skinny To A Fault! Ali Lohan Makes Her Cover Girl Debut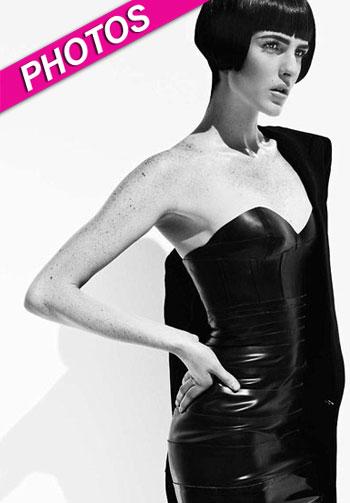 As Lindsay Lohan's life, and career, seem to spiral even further down the drain, her little sister Ali's is going from strength to strength.
The 17-year-old has made her debut as a cover girl, gracing the cover of super stylish Fault magazine, and RadarOnline.com has the stunning photos.
Ali, who has come under fire for her startling skinny frame, poses in a variety of black and white shots for the magazine's winter 2011 issue, which is available November.
Article continues below advertisement
Her tiny body, which one expert estimates has dropped to a frighteningly low 95 lbs, is covered up throughout most of the shoot, though she is pictured in one shot wearing just a heavy knit white sweater.
With her heavily made-up face, Ali looks more like a woman in her thirties than a teenager and looks drastically different to how she looked just two years ago, which is sure to spark yet more plastic surgery rumors.
As RadarOnline.com previously reported, Dr. Gary Alter, from E!'s now defunct TV show Dr. 90210, said that the teen looks like she has had Botox injected into her face.
"It's obvious to me that her eyebrows are higher than they were before," Dr. Alter, who has not treated Ali, told RadarOnline.com. "There doesn't appear to be much movement on her forehead, and she looks like she has had Botox.
"Botox can actually raise eyebrows and get some of the wrinkles out."
Article continues below advertisement
Dr. Alter added that he believes Ali may have also undergone a nose job, but was unable to say for sure from the photographs he was examining.
However, Ali has vehemently denied going under the knife, or the needle. A rep from Lohan's modeling agency, NEXT Model Management LA told RadarOnline.com: "Contrary to recent reports, I can confirm that Aliana Lohan has not had any surgery.
"As a young girl who is growing up, it's natural for her facial features to change slightly, and we see this with many of the younger models we represent. Aliana is a beautiful 17-year-old girl who is growing into her face and body, as is the norm for someone of her age."