Lindsay Lohan Calls Scary Skinny Sister Ali 'Gorgeous'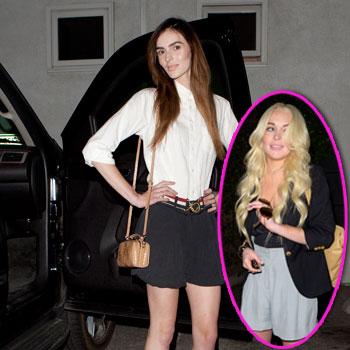 As the fans worry about Ali Lohan's startling weight loss, Lindsay Lohan is standing up for her little sister.
"I love how haters pick on my sister yet every runway model is just as thin! My sister is gorgeous and I'm so proud of her and her career!!!!" tweeted Lindsay Friday night.
Ali, 17, who just signed a contract with the famous agency NEXT Model Management, was photographed in Beverly Hills on Tuesday and her thin frame caused a firestorm of controversy.
Article continues below advertisement
Currently in New York for Fashion's Night Out, 25-year-old Lindsay put her own troubles behind her to defend her younger sibling. She denied rumors that Ali had work done on her face, after a plastic surgeon offered his opinion that her new look was the result of Botox and fillers.
As RadarOnline.com previously reported, the girls' father, Michael Lohan, also expressed his concern over his younger daughter earlier this week.
"It's scary to see my daughter looking like this," he exclusively told RadarOnline.com. "Ali was always on the thin side but seeing how much weight she's lost there appears to be a drastic change that concerns me."
Dr. Majid Ali, a highly respected nutritional expert, who has not treated the star, estimates that the 5'8 1/2" model's weight could have dropped as low as 95 pounds.
"She is very underweight. By looking at her cheekbones you can tell she has muscle wasting going on," he exclusively told RadarOnline.com "At her height, I'd put her under 100 pounds, maybe 95, and that's way, way too thin."