Demi Moore's Extreme Weight Loss Has 'Ravaged Her Looks' Says Expert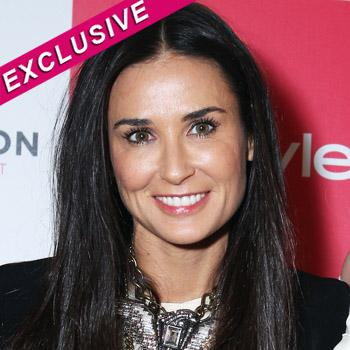 As she made her way down the red carpet in her first public appearance since her high profile marriage and health breakdowns, onlookers were taken aback by how shockingly skinny Demi Moore looked, and RadarOnline.com has exclusive details about her startling weight loss.
The Striptease actress had already lost weight during the dark period last October when her marriage fell apart in the midst of Ashton Kutcher's cheating scandal, but as she stood next to Rachel Zoe on the red carpet on Monday, she made even the notoriously stick-thin stylist look curvy.
Article continues below advertisement
"Even more than her skinny-looking body, which is covered by a loose jacket and slacks, you can see in her face how small she has really has become," explained nutritional expert Jackie Keller, CEO of NutriFit, in an exclusive interview with RadarOnline.com.
"Her face is totally different - and look at her arms - what a contrast. Clearly something has ravaged her looks. Eating disorders are not visible on the surface, but the vestiges of inadequate meals are there. Stress can really do a number as well, and all her smiles look forced and unnatural," Keller added.
Demi checked into rehab in January after being hospitalized following a seizure at home while partying with a group of friends and her oldest daughter, Rumer.
As RadarOnline.com previously reported, Adderall is Demi's drug of choice, and the stick-thin actress would frequently subsist on just energy drinks for days on end.
Supposedly now on the road to recovery, nutritionist and author of The Hamptons Diet, Dr Fred Pescatore told RadarOnline.com that he would estimate 5'5" Demi's weight at just 100 pounds.
Article continues below advertisement
"The psychotropic medications that she may be on can cause one to lose appetite and that could be the reason - others cause you to gain weight so she may be overcompensating in some way by eating less," explained the health expert, who has not treated the star.
"I think it is prescription medication, coupled with a ferocious desire not to gain weight."
Monday's public outing -- which celebrated the launch of Amanda Cadenet's new show The Conversation, produced by Moore -- marks another step to moving on from her breakup from her cheating husband.