Stick Thin And Somber Demi Moore Looks Gaunt Ahead Of Her 49th Birthday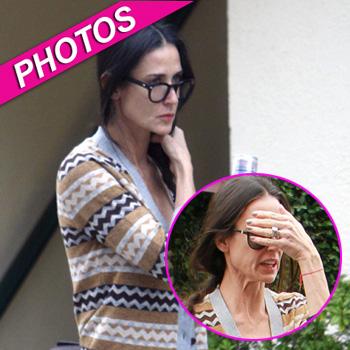 Is ageless Demi Moore finally starting to show her years?
The actress spent Thursday -- the day before her 49th birthday -- getting pampered at a West Hollywood nail salon looking shockingly skinny in baggy clothes and with her usually unlined face showing signs of stress – and RadarOnline.com has the photos.
Clutching onto a can of Red Bull energy drink, the almost birthday girl did not seem to be in the celebratory spirit, looking sullen and somber as she stepped out of the Sunset Plaza Jessica Nail Clinic.
Article continues below advertisement
The actress, whose painfully thin body looks like it is dwindling away by the day, covered up what is left of her curves in baggy brown pants and a cardigan sweater, with her enormous diamond engagement ring and wedding band from Ashton Kutcher hanging onto her ring finger.
A few weeks ago, Moore was spotted at the same salon looking alarmingly skinny in a similar outfit.
As RadarOnline.com previously reported, Demi was already looking startling thin before Ashton's latest cheating scandal, and now the actress' weight has plunged to a frightening new low, according to an expert.
"She has lost another 10 pounds in a short period of time," nutritionist Majid Ali, who has not treated the star, told RadarOnline.com in an exclusive interview.
Ali estimates that the 5'5" actress appears to weigh as little as 90 pounds. "She looks like she has gone even lower in the past month.
"Those protruding cheeks and rather gaunt face are not a healthy sign," he explained, adding that, "Stress can really debilitate an appetite."
Article continues below advertisement