Jennie Garth Talks Peter Facinelli Divorce; 'We Will Always Be A Great Family'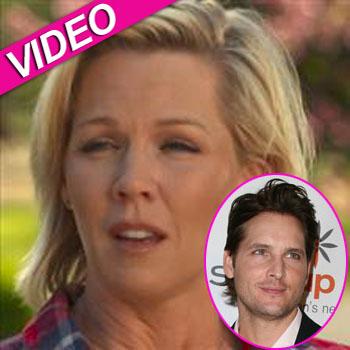 She's going through a public divorce from her husband of 11 years but that doesn't mean Jennie Garth is giving up on her family.
The 38-year-old actress opened up about her split from Twilight star Peter Facinelli in an interview on the TODAY show on Tuesday when she talked about her hopes for life post-divorce.
"Anyone who has been through it knows, it is kind of shocking when it ends up happening," she said about the moment she realized she couldn't fix her marriage.
Article continues below advertisement
"It was sad for our family unit. But we will always be a great family, because we have three beautiful daughters together."
Garth has been forced to face the media in the midst of her relationship breakdown as she promotes her new reality show, Jennie Garth: A Little Bit Country, and that hasn't been easy for her either.
"That is probably the hardest part about it," she said. "The timing of everything. When I decided to take this show on, I wasn't headed down this road. It happened in the middle of filming the show.
"Now I am doing the press circuit for the show and doing interviews and people want to talk about it. I am okay talking about it, but it's not something you really want to talk about."
As for the reports that her marriage ended because she couldn't handle her husband's fame?
"I enjoyed the quote that I was envious of his fame. There was nothing like that going on. I was very happy for him and so happy to be at home with the kids enjoying my early retirement. I didn't want to work at that time. I just wanted to be at home on the farm," she said.
Article continues below advertisement