Tracy Anderson Drops Baby Weight In Six Weeks, Criticizes Moms That 'Let Their Bodies Go'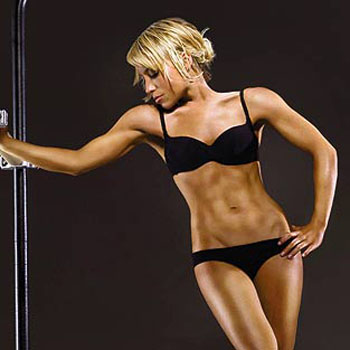 By Debbie Emery - RadarOnline.com Reporter
Celebrity trainer Tracy Anderson has been credited for sculpting the bodies of Hollywood's top stars and transforming them into "momshells," and now the fitness guru is revealing her own rapid baby weight loss while criticizing women who take longer to lose the weight.
"A lot of women use pregnancy as an excuse to let their bodies go, and that's the worst thing," Anderson, 37, told DuJour magazine in their September issue, while revealing how she lost the weight within six weeks after having daughter, Penelope, in May.
Article continues below advertisement
"I've seen so many women who come to me right after (having children) with disaster bodies that have gone through hell, or they come to me years later and say, 'Oh, my body is like this because I had three kids.'"
The trainer, who rose to fame when she got Madonna and Gwyneth Paltrow in super ripped shape, revealed how she put on a healthy 30 pounds during her pregnancy by avoiding overeating and by working out.
The modest weight gain was dramatically different from her first pregnancy when Tracy struggled to slim down after giving birth to son Sam in 1998 after piling on about 60 pounds by gorging on milkshakes and hot dogs.
"I feel like I've lived an entire lifetime since then," said the former dancer who went on to create tough Tracy Anderson Method workout.
Despite being famous for her tight, toned body, Tracy admitted that it was still tough to get back into shape after giving birth the second time around and she still has 10 pounds to go to reach her ideal weight.
Article continues below advertisement
"For 13 years I've been jumping around, dancing at such high levels all over the world and with no sleep for multiple hours a day. I thought, 'Please, I can bust out an hour of dance aerobics, no problem.' Wrong!" she said.
"I know that the journey of getting back to your best level of performance physically is very hard, but it's an incredibly empowering place to be."
RELATED STORIES:
Check Out My Crazy Curves! Christina Aguilera Flaunts Voluptuous Figure