AUDIO: Is Lady Gaga's new single a Madonna rip-off -- Decide For Yourself!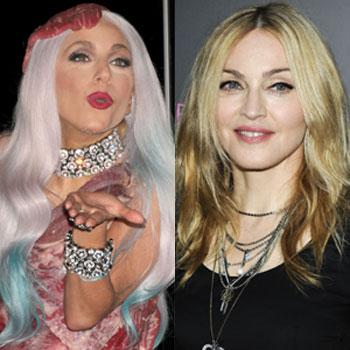 It's no secret that Lady Gaga is inspired by Madonna, using her as a fashion and style muse. But now the controversial pop star seems to have gone one step further by practically re-releasing Madonna's 1989 tune Express Yourself.
It's had fans all over the internet and social networking sites up in arms – and now RadarOnline.com can bring you both tunes so you can compare and decide for yourself – did Gaga rip off Madonna?
Article continues below advertisement
AUDIO: Compare Gaga And Madonna's Songs For Yourself
Gaga's new single Born This Way, which was released today, does sound uncannily like the eighties hit - right down to the opening spoken word chant to the dance-y beat.
Even the lyrics follow the same theme:
In Express Yourself, Madonna sings: "You deserve the best in life....So if the time isn't right then move on. Second best is never enough...You'll do much better baby on your own."
And in Born This Way Gaga sings: "There's nothin' wrong with lovin' who you are...She said, Cause he made you perfect, babe...So hold your head up, girl and you you'll go far, listen to me when I say..."
The similarities between the two songs haven't gone unnoticed by either Gaga or Madonna fans, with #bornthiswayfriday and #expressyourself remaining a trending topic on Twitter all morning.
"I'm sorry but it p***es me off so much that Born This Way sounds like Madonna's Express Yourself. I expected Born This Way to be UNIQUE," Tweeted one Gaga lover, CelesteLoveGaga.
"Hey Lady Gaga! Madonna called and she wants her song back! I agree w/several others that it does sound a lot like Express Yourself," Tweeted SandraDee8478.
"I dont see a problem with it being like Express Yourself. They r both strengthening the "be yourself" message. Justsayin," Tweeted Jackkk94.
RELATED STORIES: