Elton John Slams Madonna: 'Her Career's Over… She's A C***'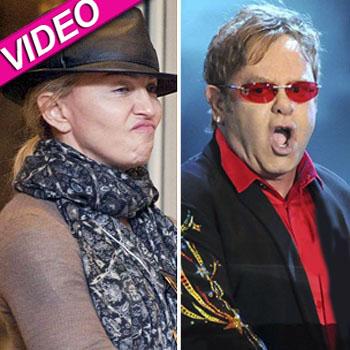 Elton John has given Madonna a bitter tongue lashing calling her "a fairground stripper" whose "career is over."
The feisty music legend has reignited his long-time feud with the Material Girl after she made derogatory comments about his son, Zachery's godmother, Lady Gaga.
Speaking out in a revealing interview with his good friend Molly Meldrum aired on Australian TV, Elton launched into one of his famous tirades, with Madonna at the receiving end.
Article continues below advertisement
Angry at Madonna's constant criticism of who she's accused of stealing from her hit, Express Yourself, for her own Born This Way - Elton let loose.
"Why is she such a nightmare?" he asked. "Sorry, her career is over. Her tour has been a disaster and it couldn't happen to a bigger c***."
He then attacked her music and her outrageous dress sense.
"If Madonna had any common sense she would have made a record like Ray Of Light and stayed away from the dance stuff and just been a great pop singer and make great pop records, which she does brilliantly.
"But no, she had to go and prove…she looks like a f***ing fairground stripper. She's been horrible to Gaga."
So what is Gaga like as a godmother?
"She's great," he said. "Wherever she is in the world she sends texts to him. She asks 'how is he?' she comes and baths him, she sings to him, she's a good godmother and she really pays attention."
RELATED STORIES:
Madonna's Butt And Nipple Flashing 'Indicates Rampant Narcissism'