Madonna Concert Sparks Controversy With Yet More Flashing & A Giant Swastika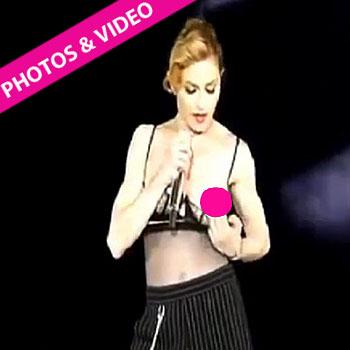 Madonna sparked major controversy during a concert at the Stande de France on Saturday, baring her breast and her derriere (in a thong) onstage for 80,000 fans -- and if that's not bad enough, she also outraged France's National Front political party by showing a swastika on a giant screen above her.
First, the flesh: The 53-year-old Material Girl flashed the crowd while performing her 1995 hit, Human Nature. She had the phrase, "No Fear" etched on her back. As we previously reported, the singer has had quite the over-sexed summer, as she showed off her breast during a concert in Istanbul, and her rear end at a show in Rome.
Article continues below advertisement
As for the other eyebrow-raiser, France's National Front political party is talking legal action against the Material Girl, after she showed a video depicting its leader Marine Le Pen with a swastika on her head.
The swastika scene came during a video montage of famous faces (or parts thereof) that flashes in the background during Madonna's concerts. During her song Nobody Knows Me, concertgoers saw a sequence of Le Pen's face with the swastika, and then a shot of Adolph Hitler. National Front authorities said Madonna showed the image despite previous warnings not to.
Watch the video on RadarOnline.com
Vice President Florian Philippot Monday said the iconography in the concert draws "a terrible link between the party and an ideology that we reject.
"Just because she is rich and well-known does not mean we should accept such atrocities," Philippot said. "It's an insult against Marine Le Pen and an insult to all the National Front party members."