Madonna Addresses Lourdes' Smoking, 'I Think I Need To Be Tougher'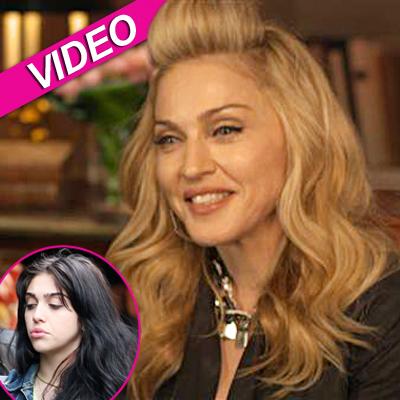 By Alexis Tereszcuk - Radar Entertainment Editor
Madonna is not a happy mother right now.
The superstar's 15-year-old mini-me daughter Lourdes was recently spotted smoking a cigarette and the Material Girl is not pleased.
"(I) wasn't very happy," she told Harry Smith Wednesday morning on the TODAY show about seeing her daughter smoking. 
The 53-year year old mother-of-four said she is a tough parent, "but honestly, I don't think I'm as tough as I should be. I think I need to be tougher. It's hard -- every day is a negotiation. But cigarette smoking I'm not very fond of -- for anyone."
Article continues below advertisement
Madonna, whose new album MDMA bombed after one week, is seen smoking in one of her recent videos, but she defended her own actions against her daughter's.
"I don't smoke. That's just an accessory, Harry. There's a difference. (Lourdes) smoked that cigarette before I did that video!" She insisted.
The Super Bowl performer said it is difficult raising her children alone.
"To be a single mother of four, work as hard as I do, live my life in a metaphorical fishbowl, it's pretty challenging. But so far I've survived with sanity and humor intact," she said.