Madonna's New Album Bombs, Sets Record For Biggest Sales Drop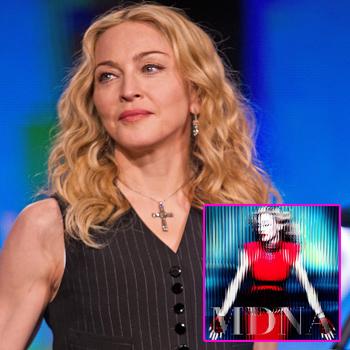 Madonna's new CD MDNA has crashed and burned, leaving a record-setting failure in its wake.
With numbers still being finalized, it appears that the Material Girl has become immaterial to listeners, evidenced by an 88 percent crash from week one to week two of sales.
The CD sold 359,000 copies when it debuted at the top of the Billboard charts and has now plummeted to 46,000 copies.
And here's a I-wish-I-hadn't-said-this quote from her manager, Guy Oseary, issued when things were going well: "People are really digging it," he claimed about MDNA. "We feel good about the album. It's her 12th album and the same story she had 30 years ago. That's an amazing accomplishment."
Article continues below advertisement
Perhaps he should have read some of the reviews, which painted Madonna as out of touch and tired. Said the LA Times: "MDNA more than anything sounds like an album made by someone who's lost touch with the desires of today's popular music... the Madonna of today has lost the art of surprise."
Well not entirely, because her record failure has surprised some people, especially Oseary, who clamed Madonna didn't need to heavily promote the album because the music would speak for itself.
MORE ON:
hollywood happenings