Madonna Gets Cheeky At Florida Music Festival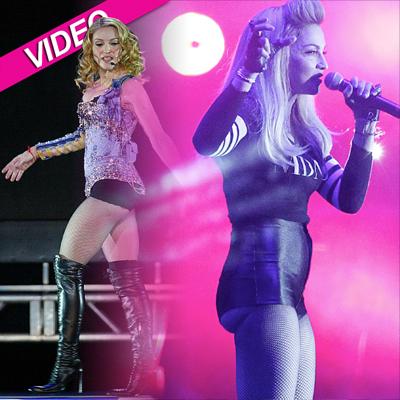 Madonna let it all hang out during an appearance at Miami's Ultra Music Festival over the weekend, wearing a skimpy ensemble that exposed her behind, as she joined DJ Avicii for his set.
"I've been here in spirit for many years, but it's good to finally be standing on the stage, looking at all you people who have come here from all around the world," the 53-year-old pop icon said. "In my world, the words music and dance are not separated.
Article continues below advertisement
"Electronic music has been a part of my life since the beginning of my career. I can honestly say that a DJ saved my life."
She then worked the crowd into a frenzy, introducing Avicii.
Watch the video on RadarOnline.com (Warning: Explicit Language)
"Are you ready to dance? Are you ready to sweat? Are you ready to make some noise. Are you ready for the next DJ motherf***ers?!"
Madonna's new album MDNA is in stores now.