Madonna Addresses M.I.A.'s Finger Flip: 'I Wasn't Happy About It'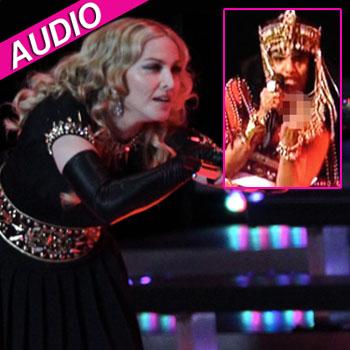 Article continues below advertisement
"To tell you the truth, I didn't even know about it! I actually didn't even know about it until I left," Madonna said. "When I left I found out about it in the elevator… I was really surprised. I didn't know anything about it.
Who Is M.I.A? Seven Things You Didn't Know About The Super Bowl Rapper
"I wasn't happy about it. I understand it's kind of punk rock and everything, but to me there was such a feeling of love and good energy and positivity, it just seemed negative."
Madonna, who reeled in a whopping 114 million viewers for her performance, likened M.I.A.'s halftime gesture as "such a teenager" thing to do.
"It's one of those things…it's such a teenager, in a way, kind of irrelevant thing to do in one respect, but on the other hand there was such a feeling of love and unity there, what was the point?" she said.
"It was just out of place."
Both the NFL and NBC were quick to issue apologies in the wake of the off-color display.