Search Continues For Escaped Madonna Stalker Who's Now Targeting Halle Berry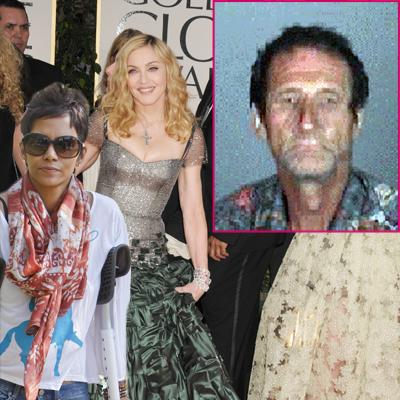 The search continued Friday for convicted Madonna stalker Robert Hoskins, who escaped from a mental hospital in Southern California earlier this month, and has apparently set his sights on Oscar-winner Halle Berry .
Los Angeles police said in a statement that Hoskins -- who escaped from Norwalk, California's Metropolitan State Hospital February 2 -- "is highly psychotic when not taking his medication and has very violent tendencies."
Article continues below advertisement
Hoskins, 54, served a decade behind bars for a 1996 conviction after repeatedly threatening the Vogue singer he'd harm her if she did not marry him, even trying to scale the fence of her property on one occasion.
An insider told us that the police warned Berry that Hoskins had mentioned her as well, reportedly saying he wanted "to cut her throat."
Daddy Time! Halle Berry's Daughter Nahla Snuggles With Gabriel Aubry
In turn, Berry — currently embroiled in an all-out custody war with baby daddy Gabriel Aubry — is now saying she wants to flee to France with boyfriend Olivier Martinez out of fears for her life and that of her 3-year-old daughter with Aubry, Nahla.
Said the insider: "When Hoskins came out of prison, he said, 'F**k Madonna, I want to cut Halle Berry's throat.' Halle has hired 24-hour guarded security at her home and the LAPD has been visiting her since the escape. The police are serious about this guy because he always travels with a knife and gun."
Article continues below advertisement
As for Aubry's reaction to Berry's dubiously-timed proposed move out of the country, the insider said that the French-Canadian model is "upset that Halle wants to leave the country ... and doesn't seem to be taking it seriously.
"He feels like it's just Halle's problem."
They'll appear in court Friday to fight over papers Berry filed requesting permission to grant the move.
Berry's Baby Daddy, Gabriel Aubry, Triumphant In Custody Battle