Exclusive
Judge Unlikely To Grant Halle Berry's Request To Move To France With Daughter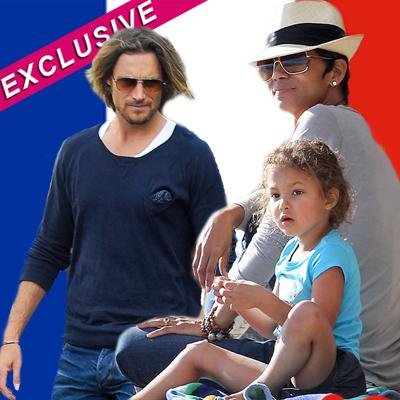 Article continues below advertisement
Aubry is absolutely stunned that Halle is attempting to whisk his daughter to a foreign country. "Gabriel feels that Halle is just being vengeful and vindictive by attempting to move Nahla to France," an insider close to the situation tells RadarOnline.com.
"First of all, if Halle is concerned for her safety, why is she routinely seen around town without a bodyguard? Yes, she has had several stalkers over the years, but she has a top of the line security system at her house, and she can certainly afford to move to a safer location in Los Angeles in a gated community. Why would Halle want to take the father of her daughter out of her life and move to a foreign country? It just defies logic."
As RadarOnline.com previously reported, the warring couple's nanny claimed that two weeks ago she was physically assaulted by Aubry, while holding Nahla -- an allegation the Canadian born model vehemently denies.
The nanny alleges the incident occurred after she went to pick Nahla up at school and she wasn't there, so she went to Gabriel's home. "Gabriel and the nanny got into an argument because no one alerted her that Nahla didn't go to school," a source told RadarOnline.com.
Article continues below advertisement
"She picked up Nahla to leave and Gabriel yelled at her and shoved her out the door so hard that she hit the wall while she had Nahla in her arms," the source alleges, adding that the nanny claims the abuse is ongoing. The nanny filed a police report and Aubry is now being investigated for misdemeanor battery and child endangerment. The Canadian born model denies the allegations.
Berry's surprise engagement to French born Martinez will make the third wedding for the actress and Gabriel's lawyers are using her two previous doomed marriages against her to prove this move isn't in the best interests of Nahla.
"Halle will be getting married for the third time. Gabriel's lawyers are going to argue that there is nothing to guarantee this marriage will last. What then? Nahla could be uprooted again, she isn't luggage for heavens sake," the source tells RadarOnline.com. "She needs her father in her life. Nahla and Gabriel are very, very close. He has always played a major role in Nahla's life and the fact the Halle is attempting to sever that relationship disgusts him. He feels that Halle is disgruntled because she was unsuccessful in having restraining orders granted against him, and lost her attempts to have his custody of Nahla stripped. The timing of this is very, very suspect. Nahla would be very isolated in France, primarily because the lack of family and friends, and the language barrier."
Article continues below advertisement
Lawyers for Aubry "have told him they think it's very unlikely the judge will grant Halle's request simply because he is Nahla's father and lives in Los Angeles. Los Angeles is where their daughter was born and this is where her roots are," the source says. "Gabe's legal team also believes that Nahla's counselor wouldn't recommend the move and the judge takes that heavily into consideration. Halle is acting like a spoiled child that isn't getting her way, and Gabriel won't be bullied by her, period."