Exclusive
Halle Berry & Gabriel Aubry Custody Battle: Officials Want Them To Take Parenting Classes Together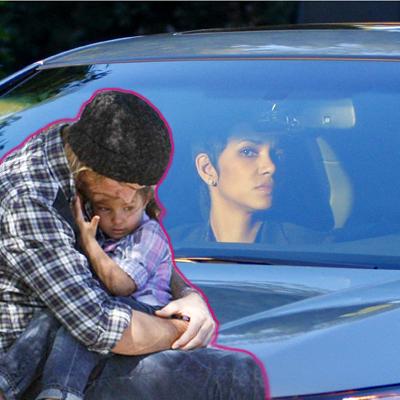 By Jen Heger - RadarOnline.com Legal Editor
UPDATE: Halle Berry has arrived at court. Story developing…
The Los Angeles Department of Children & Family Services is recommending that Halle Berry and Gabriel Aubry take parenting classes together, RadarOnline.com is exclusively reporting.
The Academy Award winning actress and the Canadian model will be in a Los Angeles courtroom Monday, as Berry continues her battle to have Aubry stripped of visitation of their three year old daughter, Nahla.
Article continues below advertisement
Halle wants Gabriel out of the picture because of allegations he pushed their daughter's nanny while she was holding Nahla.
A source told RadarOnline.com the altercation happened after the nanny went to pick Nahla up at school and she was not there because Gabriel had kept her home sick for two days. "So she went to Gabriel's home," a source told RadarOnline.com. "Gabriel and the nanny got into an argument because no one alerted her that Nahla didn't go to school."
"She picked up Nahla to leave and Gabriel yelled at her and shoved her out the door so hard that she hit the wall while she had Nahla in her arms!" the source alleged, adding that the nanny claims the abuse is ongoing.
Aubry vehemently denies pushing or even touching the nanny. The nanny filed a police report and Aubry is now under criminal investigation for misdemeanor battery and child endangerment.
Article continues below advertisement
As RadarOnline.com exclusively reported, social workers interviewed Halle and Gabriel on Friday. Separate interviews with both were conducted earlier last week.
The purpose of the joint interview "was to get these two in the same room and recognize that all of this fighting, is hurting their daughter. It was an emotionally charged interview as Gabriel feels that he can't do anything right, and there is reason to believe his concerns. Social workers have written an extensive report that will be given to the judge for his consideration, and that report will recommend that no changes in custody be made. The report recommends that Halle and Gabriel attend parenting classes together, so that they can co-parent Nahla together. The classes will give them the tools to work through their issues, and hopefully become better parents for it," a source close to the situation tells us.
The official investigation by child protective services will "remain open while Gabriel and Halle take the parenting classes and to ensure that Nahla's safety and well-being continue. Gabriel absolutely wants to work with Halle, and that hasn't happened, so he is hopeful that can happen now," the source says.
"Of course, Gabe doesn't like being accused of hurting his child or anyone, but he knows the truth and that he didn't do anything the nanny has accused him of. He wants to take this negative and turn it into a positive so that he can be the best father for Nahla," the insider asserts.