Exclusive
CPS Wants To Interview Halle Berry & Gabriel Aubry Together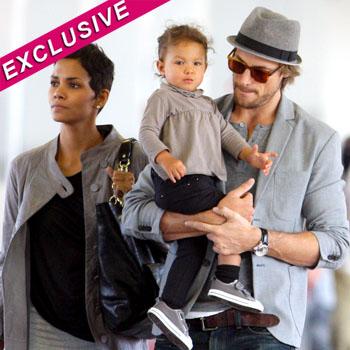 Article continues below advertisement
"Gabriel and the nanny got into an argument because no one alerted her that Nahla didn't go to school," a source told RadarOnline.com.
The source went on to claim that Aubry allegedly verbally abused the nanny, before things took a turn for the physical.
"She picked up Nahla to leave and Gabriel yelled at her and shoved her out the door so hard that she hit the wall -- while she had Nahla in her arms," the source alleges, adding that the nanny claims the abuse is ongoing. The nanny filed a police report and Aubry is now being investigated for misdemeanor battery and child endangerment.
Social workers have already interviewed the Academy award winning actress and Aubry and officials now want to interview both parents together.
"It's important for DCFS to interview Halle and Gabriel together, because they are the parents, and they are going to need to work together to parent their daughter, and that clearly isn't happening currently, and the person it's hurting the most is Nahla," a source close to the situation tells RadarOnline.com. "Gabriel is willing to put his issues with Halle aside because he truly wants what is best for Nahla.
Article continues below advertisement
"He has instructed his attorney to tell social workers to name a time and place for the interview, and he will be there. This is routinely done in cases like this. You have two parents that have been to court multiple times regarding custody issues, and now there are allegations of abuse, which DCFS takes very, very seriously. Social workers need to see how Halle and Gabriel interact together. Physical abuse isn't the only aspect social workers are investigating, they want to determine if there has been any emotional abuse that Nahla has been subjected to."
Meanwhile, Gabriel is adamant that the nanny tripped, and that he absolutely didn't push her. "Why in the world would Gabriel push the nanny causing her to fall while she was holding his daughter?" a source close to the situation asks.
The parents are expected back in court on Monday because Halle will formally ask the presiding judge to strip custody from Gabriel pending the outcome of the criminal investigation. Aubry hopes the second interview will occur before the hearing on Monday.