Halle Berry Arrives At Court For Custody Showdown With Gabriel Aubry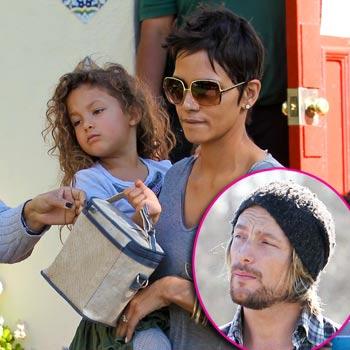 UPDATE: 9:39 a.m. PST - The hearing is over, and Halle Berry didn't say anything when it was over, but was smiling and looked very happy.
Halle Berry has just arrived at a Los Angeles courthouse to try and strip her baby daddy, Gabriel Aubry of custody of their daughter, Nahla, after he allegedly pushed their nanny, causing her to fall while holding the little girl, RadarOnline.com is reporting.
Article continues below advertisement
As RadarOnline.com previously reported, trouble started after the nanny showed up to pick Nahla up at school, and she was not there because Gabriel had kept her home sick for two days.
"The nanny went to pick Nahla up at school and she wasn't there, so she went to Gabriel's home," a source told RadarOnline.com. "Gabriel and the nanny got into an argument because no one alerted her that Nahla didn't go to school."
The source told RadarOnline.com that Aubry allegedly verbally abused the nanny, before things took a turn for the physical.
"She picked up Nahla to leave and Gabriel yelled at her and shoved her out the door so hard that she hit the wall -- while she had Nahla in her arms!" the source alleges, adding that the nanny claims the abuse is ongoing. The nanny filed a police report and Aubrey is now being investigated for misdemeanor battery and child endangerment.
Article continues below advertisement
The Academy award winning actress is in dark grey slacks, and she is on crutches because of a foot injury she sustained last year.
Berry looks stressed and is with her high powered attorney, Neil Hirsch. The hearing will take place behind closed doors and will be closed to the public because it involves a child.
Stay tuned to RadarOnline.com for developments on this story.
RELATED STORIES:
Jessica Biel Brings Her Sexy Back To W Magazine Bash But Doesn't Wear Rumored Engagement Ring