Justin Timberlake's Grandma Confirms Engagement: 'Jessica's A Very Sweet Girl'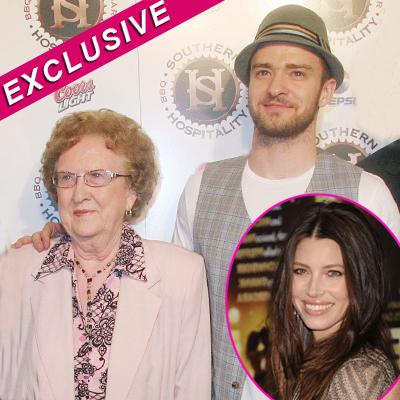 Jessica Biel may be engaged to Justin Timberlake, but there's another important woman in his life -- and she's given her blessing to the couple's pending nuptials.
Justin's grandmother, Sadie Bomar, has confirmed reports of the couple's engagement, saying, "Yes, Justin is engaged," and she's obviously very pleased with the match.
"Jessica is a very sweet girl, she's upright and everything and we love her," Sadie said.
Article continues below advertisement
"She's a wonderful campaigner for the environment and Justin is too, a fine young man. Jessica will be a lovely member of the family."
She continues: "They don't know if the wedding will be in Memphis or Colorado, it's all very new they haven't made any plans yet. Justin, his mum and dad and Jessica have all been in Montana all Christmas and New Year, that's when he proposed. Justin rang me himself on Christmas day to tell me about the engagement.
"You know Justin he's a very laid back he was excited but he don't make a big episode out of anything. It just seemed like the right time for him I guess."
Raving about her famous grandson, Sadie goes on to say: "Justin loves me and I love him too, he's a big part of my life. I don't know all the details yet but we just love Jessica and the whole family is happy for him. Now we have a lovely wedding to look forward to."