Halle Berry Wearing Ring On Engagement Finger — Did Olivier Martinez Propose?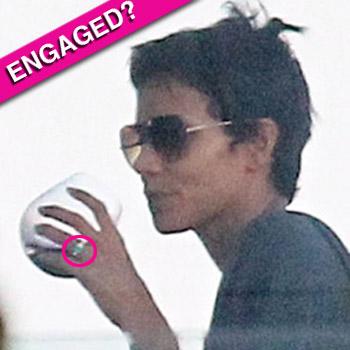 Third time looks like it's a charm!
Twice-married Hollywood star Halle Berry stepped out on New Year's Day with her partner Olivier Martinez wearing what looks suspiciously like an engagement ring, as these RadarOnline.com photos reveal.
Despite previously declaring she will "never, never get married again," the 45-year-old Oscar winner plans to wed Martinez, whom she met on the set of the film Dark Tide, as Star magazine reported exclusively in October.
Article continues below advertisement
"Halle has found her true soulmate in Olivier and it's only a matter of time before they tie the knot," a friend of the pair told Star.
"She's madly in love and knows she wants to spend the rest of her life with him. Olivier has been the rock that Halle has never had in any of her relationships."
So, now that Halle's sporting a ring on that all-important finger, we reached out to her rep and asked whether wedding #3 had a ring of truth to it? As of yet, we have not received a response.