Exclusive
Halle Berry Wins In Court Again; Gabriel Aubry's Visitation With Daughter Must Stay Supervised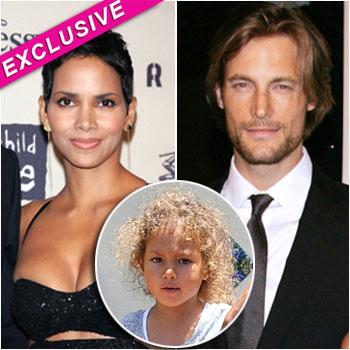 The custody battle between Halle Berry and Gabriel Aubry over their beautiful daughter, Nahla, wages on with no visible end in sight.
Attorneys for the warring couple were back in court Monday in Los Angeles, and it was a sweet victory for the 45-year-old actress, RadarOnline.com is exclusively reporting.
Aubry had requested an amendment to his visitation rights, which currently insist that the bulk of his time with his three-year-old daughter be supervised by a third party, but the judge ruled in favor of Berry, who was opposing any change.
Article continues below advertisement
Aubry is allowed three hours alone time with Nahla, where he can take her to the park or carry out an activity, but the order remains that the nanny must be present at all other times, especially during overnight stays.
A source close to the situation tells RadarOnline.com that Gabriel is furious over not being allowed to care for his daughter on his own and that he feels the nanny is encroaching on his relationship with Nahla, and supervising their every move.
Meanwhile, Gabriel is currently overseas in Majorca, caretaking Nahla while Berry works on her new movie, Cloud Atlas. As per the couple's custody agreement, Berry must arrange accommodation for Aubry during these times and it must be of the same standard as she is being afforded — so if Halle is staying in a five star hotel, Gabriel must be given the same.
RELATED STORIES: