Hop Along Halle Berry Arrives Back In Mallorca After Paris Doctor Visit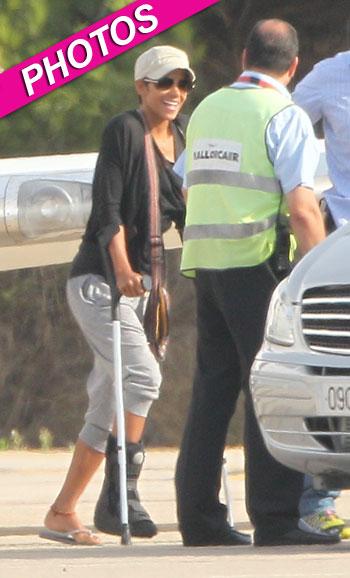 Despite her broken foot and heavy cast, Halle Berry managed a smile for the cameras as she hopped along on crutches in Spain Friday, and RadarOnline.com has the photos.
The 45-year-old actress broke her foot earlier this week while walking around her vacation home in Mallorca during a day off from filming.
Halle was arriving back from Paris on a private jet where she had gone to have her injury looked at by specialists. She had spent the night in the hospital.
Article continues below advertisement
Wearing grey sweatpants, a black top and a peaked cap, Halle seemed in good spirits as she balanced herself on her crutches for the short walk from the plane to her waiting car.
Her right leg was in a surgical boot while her good foot was placed in a comfortable slipper.
Halle greeted airport officials with a smile as members of her team guided her carefully into a Mercedes SUV.
The Oscar winner is in Europe filming the movie Cloud Atlas which co-stars Tom Hanks, Susan Sarandon and Hugh Grant.
Production will apparently work around Halle for a couple weeks and then they have the option of shooting her from the waist up or using a stunt double to get around her large cast.
Halle was seen spending quality time in Mallorca earlier this month with her boyfriend Olivier Martinez and her three-year-old daughter Nahla.
RELATED STORIES:
European Escape! Halle Berry Enjoys a Family Vacation With Olivier Martinez