Exclusive
Child Protective Services Formally Interview Halle Berry's Baby Daddy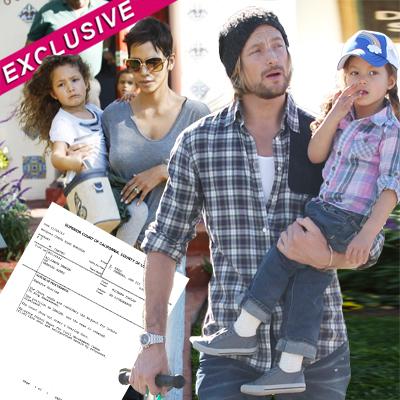 By Jen Heger - RadarOnline.com Legal Editor
The Los Angeles County Department of Children and Family Services has formally interviewed Halle Berry's baby daddy, Gabriel Aubry, in connection with allegations that he pushed a nanny while she was holding the former couple's three year old daughter, Nahla, RadarOnline.com is exclusively reporting.
EXCLUSIVE DOCUMENT: Judge Denies Nanny's Request For Restraining Order
Article continues below advertisement
Against Aubry
Aubry's interview with social workers was thorough and exhaustive. "These are very serious allegations and Gabriel was obviously very nervous," a source close to Aubry tells RadarOnline.com. "Gabriel feels that he is living in a police state as far as his time with his daughter is concerned.
"He is a doting and loving father and extremely attentive to Nahla. His daughter wasn't present when the interview took place. The investigation will remain open at this point, but it's not uncommon at all for officials to keep an investigation open out of an abundance of caution to ensure the safety of the child."
As RadarOnline.com previously reported, the nanny says that last Wednesday she went to pick Nahla up at school and she wasn't there, so she went to Gabriel's home.
"Gabriel and the nanny got into an argument because no one alerted her that Nahla didn't go to school," a source told RadarOnline.com.
The source went on to claim that Aubry allegedly verbally abused the nanny, before things took a turn for the physical.
Article continues below advertisement
"She picked up Nahla to leave and Gabriel yelled at her and shoved her out the door so hard that she hit the wall -- while she had Nahla in her arms," the source alleges, adding that the nanny claims the abuse is ongoing. The nanny filed a police report and Aubry is now being investigated for misdemeanor battery and child endangerment.
The former model is adamant that the nanny tripped, and that he absolutely didn't push her, causing her to fall. "Why in the world would Gabriel push the nanny causing her to fall while she was holding his daughter?" a source close to the situation asks.
The Academy award winning actress and her Canadian ex-boyfriend have been to court multiple times regarding their daughter. "It's truly a sad situation for Nahla. She is now old enough to pick up on the stress of the situation," the source asserts.
Halle and the nanny have also been questioned by social workers and the LAPD. Halle lost the first round in court earlier this week when Judge Scott Gordon denied a restraining order that the nanny had filed against Aubry; no changes in custody were made at the conclusion of those proceedings.
Article continues below advertisement