Who Is M.I.A? Seven Things You Didn't Know About The Super Bowl Rapper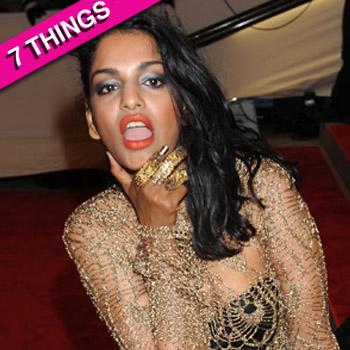 Sassy rapper M.I.A. shocked the world on Sunday by flipping the bird during her Super Bowl halftime show performance of Give Me All Your Luvin' with Madonna!
The 36-year-old Brit, whose new video Bad Girls recently hit the internet, is not your average rapper – and RadarOnline.com has seven interesting facts about her to prove it!
7. Her real name is Mathangi "Maya" Arulpragasam! Born in London, she moved to Sri Lanka as an infant and spent the first 10 years of her life there, before returning to England with her family.
Article continues below advertisement
6. Before she became a rapper, she pursued a career in visual arts! Graduating from Central St Martins College, she worked as a filmmaker, designer and visual artist before launching her singing career in 2002. Jude Law was one of her first fans and art buyers!
5. Her musical career started because of Elastica! After designing the cover for one of the Brit band's singles, M.I.A. hit the road with them to document their tour on camera. On the tour she bonded with opening act Peaches, who encouraged her to pursue a career in music.
4. She is philanthropic and politically active! A few of her causes include Youth Action International and the Unstoppable Foundation, and she has publicly donated loads of money to various charities.
3. She has set a world record! She is the only artist to be nominated for an Academy Award, Grammy Award, Brit Award, Mercury Prize and Alternative Turner Prize.
2. M.I.A., who had been estranged from her father since the age of 10, used her first album to get him back in her life! As a child, her father, Arul, estranged himself from the family and M.I.A. had absolutely no contact with him after moving back to London with her mother and siblings. She
Article continues below advertisement
named her first album Arular after her father, in hopes he would seek her out. Though the two reunited, their relationship never recovered.
1. Her baby is the heir to a $2.5 billion fortune! Her baby daddy, Benjamin Bronfman, is the son of Edgar Bronfman, Jr., who served as CEO of Warner Music Group from 2004 to 2011 and Chairman of the company from 2011 to 2012. The Bronfmans earned their fortune through the Seagram Company.