Madonna: 'I Don't Support Drug Use And I Never Have'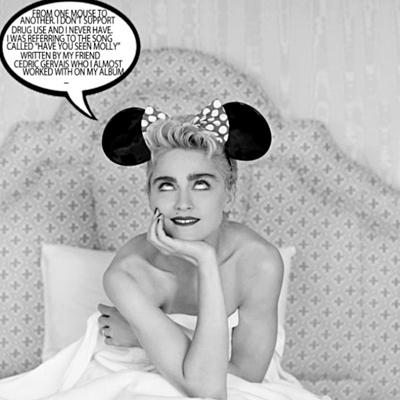 Madonna is denying she made a veiled reference to the illegal drug MDMA (street name: Ecstasy) during her appearance at Miami's Ultra Music Festival over the weekend, when she asked the concertgoers, "How many people in this crowd have seen Molly?"
With "Molly" being an underground term for the illegal drug, many were upset that the 53-year-old music icon would seemingly promote self-destructive behavior to her massive fan base.
Article continues below advertisement
The Material Girl's response? She tweeted a pic of herself from 1989 wearing Minnie Mouse ears wand wrote: "From one mouse to another. I don't support drug use and I never have.
Madonna Gets Cheeky At Florida Music Festival
"I was referring to the song called 'Have You Seen Molly' written by my friend Cedric Gervais who I almost worked with on my last album ..."
Article continues below advertisement