Desperately Seeking Lourdes! Madonna's Mini-Me Looks Just Like Mom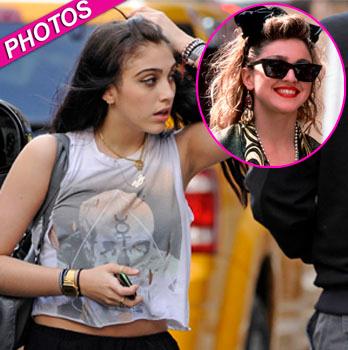 Who's that girl?
Yes, Madonna's doe-eyed daughter Lourdes, 15, is turning out to be a chip off the Vogue block, as the young incarnate of the Material Girl turned heads in New York Friday.
Like her mom, she's quite the fashionishta, clad in a see-through black skirt and belly-baring shirt, a plethora of accessories and motorcycle boots.
Lourdes, whose dad is Oz star Carlos Leon, is teaming up with her mother on a fashion line for teens called Material Girl, that will sell at Macy's.
Article continues below advertisement