Seeing Double! Madonna's Daughter Lourdes Is Spitting Image Of Her Mom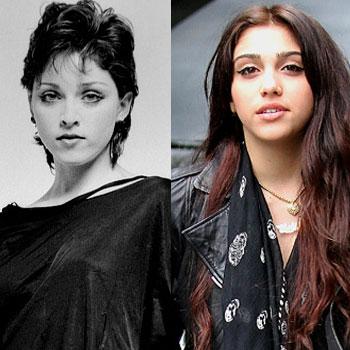 They say that the apple doesn't fall far from the tree.
And Madonna's daughter Lourdes Leon is proving that old adage as she looks more and more like her mother every day. She is now the spitting image of the Vogue singer when she was younger, as seen in a stunning comparison photo taken of Madonna in 1979.
Although she is just 15, Lourdes is already a striking beauty with the same brunette locks, thick eyebrows and cherubic heart-shaped face that her mother had when she was 21.
Article continues below advertisement
Even her eyes appear to be exactly the same as the Material Girl's with a similar nose and pout.
It is not unusual for a daughter to look like her mom but the similarities between the pair are now uncanny.
Lourdes has also taken to dressing like the style icon from her 80s heyday in belly-baring shirts and funky accessories.
As well as a shared passion for fashion on their clothing line Material Girl, it appears that Lourdes has also picked up on her mom's bad girl side after she was pictured sneakily smoking a cigarette recently.