Hot At Half A Century! 10 Sexy Stars We Can't Believe Are Over 50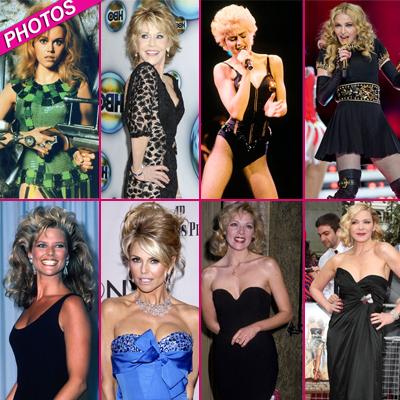 Some things get better with age -- like these 10 Hollywood beauties!
From chart-topping legends to critically acclaimed actresses, these beloved ladies have grown up and gotten older in the public eye, and somehow managed to slow down the hands of time.
RadarOnline.com has photos of 10 stars that look so fabulous, we can't believe they are over 50!
When Madonna embarked on her Who's That Girl World Tour in 1987, she was still in the early stages of becoming an icon. 25 years later at 53-years-old, the Material Girl is still looking sexy and steaming up the stage with her powerful performances -- and dating men decades her junior!
Article continues below advertisement
Other foxy stars in their fifties include Christie Brinkley, who is still a smoking hot Uptown Girl at 57, and Sharon Stone, whose Basic Instinct is still scandalously sexy at 53 years old.
Jane Fonda got her start in Hollywood at a young age, starring in the hit movie Barbarella in 1968. The fitness guru, who was born in 1937, is still nabbing coveted acting roles and can even rock a skintight dress to perfection at 74-years-old.
A year older than Jane, Dyan Cannon is another foxy blonde who is still getting standing ovations for her looks. The devoted Los Angeles Lakers fan got her career going in 1958 and married movie legend Cary Grant in 1965.
To see all 10 stars we can't believe are over 50, click here!