Madonna's Nipple Flash Causes Internet Outrage!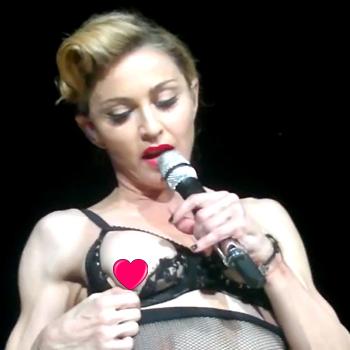 Madonna is no stranger to creating controversy, but did the pop star take her mischievous antics too far this time?
During a performance in Istanbul, Turkey over the weekend, the 53-year-old flashed the crowd of 55,000 people and showed her right breast.
Dressed in pin striped trousers, a white shirt and sexy bra top, Madonna whipped off her top while singing her 1995 hit Human Nature, and pulled down her racy lingerie to expose herself.
Article continues below advertisement
She then unzipped her pants and stood on stage with her hand in her trousers, which outraged some fans.
People went online to complain and one fan wrote, "Isn't Madonna a little too old to be flashing nip on stage? With her kids in the background (as they're performing with her on tour?)"
Another person chimed in and added: "Why is Madonna still showing off her t*ts? No, it's not sexy to see a woman who could be my grandma whipping her nipple around."
CNN's Piers Morgan even weighed in on Twitter: "Most embarrassing, cringe-worthy, desperate moment in the history of music?"
Others however, didn't take it as seriously and jumped to Madge's defense.
Christina Applegate wrote: "Reading twitter this am and there r all these tweets about Madonna and her nipple flash. And we are shocked because...? What I'm saying is. Its not like Sarah Palin had a nip slip, its Madonna."
Article continues below advertisement
While many found her behavior offensive, the bigger issue for some is the fact that Madonna called out other performers for nip slips just as recent as January, but five months later, the singer has gone back on her words.
"You don't have to show nipples to be interesting. It doesn't necessarily mean you're cutting edge if you do, right?," Madonna wrote.
RELATED STORIES:
Madonna Takes Subtle Dig At Lady Gaga In Express Yourself/Born This Way Mash-Up