Exclusive
Madonna's Butt And Nipple Flashing 'Indicates Rampant Narcissism'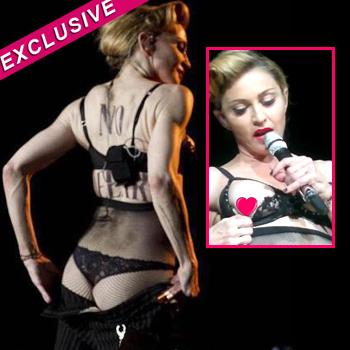 Article continues below advertisement
Now, RadarOnline.com can exclusively reveal that the 53-year-old Vogue singer's almost stripper-like attitude lends a disturbing insight to her emotional well-being and die-hard desire to stay in the spotlight.
"Madonna's recent skin-showing antics reflect the desperate attempt to stay relevant and in the news," Los Angeles psychologist Dr. Seth Meyers, who has not treated the star, told RadarOnline.com in an exclusive interview.
"These behaviors are a sad defense against aging and her attempt to hold onto her previous sex symbol image," he revealed. "That she engages in such behavior with her children in the vicinity indicates ignorance and rampant narcissism."
The raunchy pop star's nipple-popping performance in conservative Istanbul caused a slew of backlash online, with one commentator asking, "Why is Madonna still showing off her t*ts? No, it's not sexy to see a woman who could be my grandma whipping her nipple around."