Airbrushed, Much? The Truth About Lady Gaga's Vogue Cover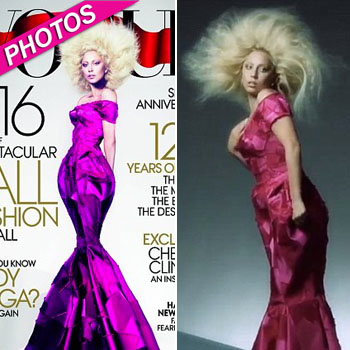 Don't judge a magazine model by her airbrushed cover!
Lady Gaga, who is constantly encouraging her fans to embrace their individuality and be themselves, snagged the coveted cover of Vogue's September issue looking ultra skinny and stunning in a Marc Jacobs gown. But in the fashion magazine's behind-the-scenes video, the sassy singer looks drastically different and a whole lot curvier, leading to outrage by many publications over the excessive airbrushing.
Article continues below advertisement
"Sometimes I wonder why people bother with the original photography anymore when the end result is basically just a photo illustration," Amy Odell of BuzzFeed blogged about the shocking airbrushing job.
The discrepancies between the cover and the behind-the-scenes screen grabs are undeniable. Not only is Gaga's waist impossibly tiny and her hips drastically exaggerated, but her facial features are also chiseled and refined.
"It's no secret that magazine covers get retouched, but is Vogue's completely airbrushed September issue with Lady Gaga going too far?" the New York Post questioned about the touched-up image.
What do you think? Did Vogue go too far with airbrushing Lady Gaga? Sound off below!
Elton John Slams Madonna: 'Her Career's Over… She's A C***'
Lady Gaga Tweets New Tattoo; Reveals New Album Title?