TV News Anchor Slams Viewer Who Sent 'You're Obese' Email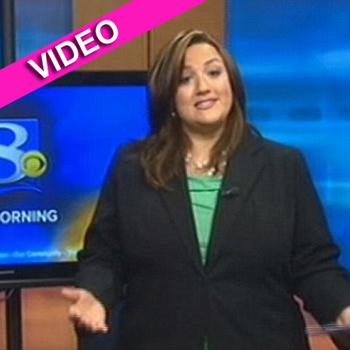 By Adam S. Levy - RadarOnline.com Staff Writer
In an unusual move that has made her the subject of attention, an overweight television news anchor in La Crosse, Wisconsin Tuesday addressed a viewer who told her in an e-mail that her size made her a poor role model for girls.
The letter's author, identified by the AP as Kenneth Krause, told WKBT-TV anchor Jennifer Livingston her "physical condition hasn't improved for many years" and she shouldn't consider herself "a suitable example for this community's young people, girls in particular."
Article continues below advertisement
"Obesity is one of the worst choices a person can make and one of the most dangerous habits to maintain," Krause wrote. "I leave you this note hoping that you'll reconsider your responsibility as a local public personality to present and promote a healthy lifestyle."
The controversy blossomed when Livingston's husband Mike Thompson (also a broadcaster at the station) posted the "infuriating" message on his Facebook page, spurring local media outlets to pick up the story.
In a 4-minute segment on Tuesday's broadcast, the 37-year-old Livingston called Krause (she did not identify him by name) a bully for his harsh words.
"The truth is, I am overweight," she said. "You can call me fat -- and yes, even obese on a doctor's chart.
"But to the person who wrote me that letter, do you think I don't know that? That your cruel words are pointing out something that I don't see? You don't know me. You are not a friend of mine. You are not a part of my family...you know nothing about me but what you see on the outside, and I am much more than a number on a scale."
Article continues below advertisement
"The internet has become a weapon, our schools have become a battleground, and it is passed down from people like that man, to those who don't know any better. If you are at home and you are talking about the fat news lady, guess what? Your children are probably going to go to school and call someone fat."
She wrapped up the segment saying, "To all of the children out there who feel lost, who are struggling with your weight, with the color of your skin, your sexual preference, your disability, even the acne on your face, listen to me right now: Do not let your self-worth be defined by bullies.
Article continues below advertisement
"Learn from my experience: That the cruel words of one are nothing compared to the shouts of many," said the 15-year media veteran, adding she's received more than 1,000 people positive Facebook messages in response to the issue.
Watch the video on RadarOnline.com
She told the AP: "It's not what this one particular man said to me -- it's the reaction that what I am saying back to him and bullies everywhere is impacting me.
"I am just shocked right now that the words of one journalist in small La Crosse, Wisconsin can make such a loud roar."