Justin Bieber's Drag Racing Arrest Caught On Camera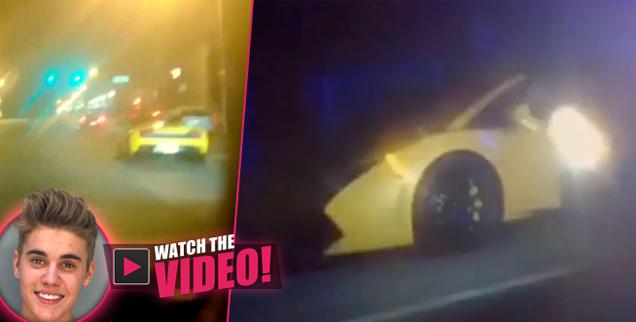 Justin Bieber's arrest in connection with DUI and drag racing was caught on camera by a fan in Miami Beach early Thursday.
A fan identified under the Instagram handle samanthurx74 trailing the singer posted video of the apprehension to her Instagram account, shouting wildly, "Justin just got pulled over, Justin just got pulled over!"
The "Girlfriend" singer was leaving from a club behind the wheel of a rented yellow Lamborghini when police apprehended him at Pine Tree Drive and 26th Street on suspicion of drag racing. The fan trailing him was parked across the street as she taped the run-in between police and the pop star.
Article continues below advertisement
Police said that the singer's hangers-on had blocked off the intersection to set up a drag strip for the fast-living showman, and Miami Beach Police Chief Raymond Martinez told the Miami Herald that officers had a tough time of apprehending the group, as "when the cars are going that fast, it takes awhile to catch up."
Bieber — who didn't have a valid driver's license on his person at the time of arrest, Martinez said — cursed at the officers who initially pulled him over, police told the paper. When he was taken into custody at 4:30 a.m., an incoherent Bieber, 19, kept his hands in his pockets and resisted arrest without violence, according to Martinez.
Police insiders told the paper that Bieber told officers he'd consumed a beer, anti-depressants, and had been smoking marijuana nonstop. Tests showed that Bieber — who earlier flunked a field sobriety test — was determined to be under the influence of drugs.
Miami Beach Police spokesman Sgt. Bobby Hernandez said that Bieber will be booked into the Miami-Dade County Jail, and charged in connection with DUI, resisting arrest and driving on an expired Georgia license.
Article continues below advertisement
The NY Daily News reported that a second car (a red Ferrari driven by Def Jam rapper Crazy Khalil, whose real name is Khalil Amir Sharief) was pulled over directly in front of the Canadian pop star. On Thursday, Khalil wrote on his Twitter account, "Miami nights ridin thru yo city in that hot wheel," with a pic of a Ferrari steering wheel.
As we previously reported, Bieber was in South Florida following a quick excursion to Cuba Wednesday, where he retreated to in the wake of mounting problems after his Calabasas, Calif. mansion was examined by police following an incident with a neighbor, and drugs were apprehended at the scene. He's spent the rest of his time in South Florida at the beach, or at King of Diamonds, a gentleman's club where he reportedly treated pal Lil Scrappy to a $75,000 birthday bash. (New reports emanating from the area indicated officials in Opa-Locka, Fla. are looking into claims he had a police detail squiring him around town, leading to the officers under the probe to be released from duty with pay.)