Exclusive
Justin Bieber Locked In Battle With Advisors Over Egg Throwing Mansion - He's Been Ordered To 'Move Out Now' But Refuses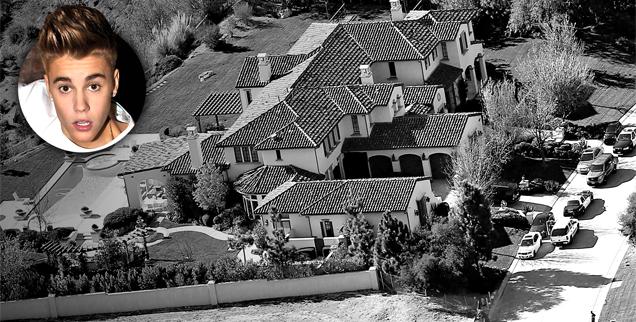 Serial troublemaker Justin Bieber has been told by his closest advisors to sell his Calabasas, Calif., mansion, the scene of the notorious egg hurling attack, but the 19-year-old singer has flat out refused!
Recently, Bieber's confidantes, including manager Scooter Braun, met with him and made a simple request: "Move out, now."
"Justin was told he needed to move out of the neighborhood because of ongoing problems with his neighbor," a source said of the epic dispute with Jeffrey Schwartz, who on Jan. 9 summoned cops to their posh neighborhood at around after he saw the "Baby" singer pitching the eggs at his front door.
Article continues below advertisement
"Justin was told, put the house up for sale and get out immediately. It doesn't take a rocket scientist to figure out why Justin was told to do so. His neighbors hate him and he will continue to be a target as long as he lives in the gated community.
"But he absolutely refused to put his house up for sale. He loves the house and he doesn't want to give his neighbors the satisfaction of leaving. So for now, Justin is staying put."
The neighbor has told the Los Angeles County Sheriff he ventured out to his balcony during the incident, where he spotted the Canadian singer tossing the eggs and asked him, "What the hell are you doing?"
At that point, Schwartz has alleged that Bieber began chucking the eggs at him, as they yelled at one another, until the Biebs retreated back into his mansion.
As RadarOnline.com exclusively revealed, Bieber's on-again, off-again girlfriend Selena Gomez was at the home on the night in question.
Article continues below advertisement
Gomez, 21, had attended a party at Bieber's home with a group of pals, a source close to the situation has confirmed.
She had romantically reunited with the singer days earlier, having been photographed riding on Segways in his exclusive neighborhood.
If he ends up leaving the enclave, one thing is certain, as a resident of the community told RadarOnline.com: "We would gladly pay for the movers and throw him an epic going away party! Everyone wants him out of The Oaks -- and the sooner the better."