Justin Bieber's Egg-Throwing Police Probe Dilemma: Possible Felony Conviction Could See Pop Star Deported Back To Canada!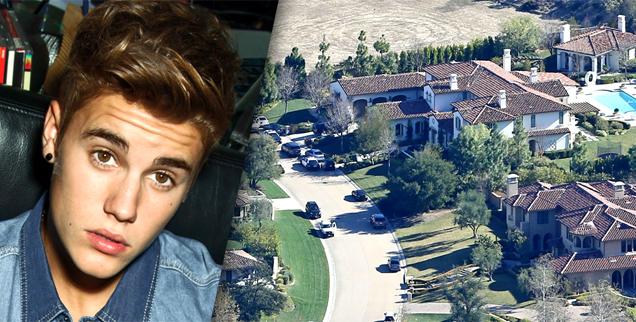 Beliebers, buckle up: There's the REAL prospect pop star Justin Bieber could be deported to Canada!
RadarOnline.com has exclusively learned that his aggravated neighbor is pushing Los Angeles cops to charge the bad boy "Baby" hit-maker with a felony vandalism charge over the egg-throwing incident because, if convicted, the 19-year-old Canadian - who is living in the United States on a work visa - faces the prospect of being sent home.
Article continues below advertisement
Said one law enforcement source: "If Justin is charged with felony vandalism and convicted, it's very likely his work visa, allowing him to live in the United States, would be revoked.
"It could be categorized as a crime of moral turpitude under United States immigration law."
As we previously reported, eleven L.A. County Sheriff cars - along with a BATTERING RAM UNIT - paid a visit to Bieber's Calabasas, Calif., mansion to seize security camera video following a neighbor's accusation that Bieber threw as many as 20 eggs at both his person and his home.
In a separate incident, police arrested Bieber's pal Lil Za for felony drug possession after the raid.
That neighbor, Jeffrey Schwartz, last week summoned L.A. County Sheriff authorities to the neighborhood at around 7:30 PM, claiming he saw the singer pitching the eggs at his front door.
The man said that when he went onto his balcony and asked Bieber what he was doing, Bieber began chucking the eggs at him before he retreated back into his mansion.
Article continues below advertisement
"His neighbor wants him not only out of the neighborhood, but also the country," a source said.
Of concern to Bieber, the Los Angeles County Sheriff's Department is taking the case VERY seriously.
The organization was forced to defend itself when mocked by reporters for the extreme measures in sending 12 detectives to his mansion for the raid.
"I get that eggs don't seem that significant but there was a victim who suffered an extensive amount of damage," Lt. David Thompson said in a press conference, noting the damage was approximately $20,000.
The insider told RadarOnline.com: "Be assured that the Los Angeles County District Attorney's office will immediately get in touch with immigration officials to let them know Justin has been charged with a felony. This is a very serious situation."
RadarOnline.com reached out to Bieber's camp for comment but had not heard any response at time of publication.